c4.Hub
Optimize your Email and File Management
Saving you time and effort, c4.Hub always keeps your SharePoint and Teams at hand. Local Storage as well, if you wish.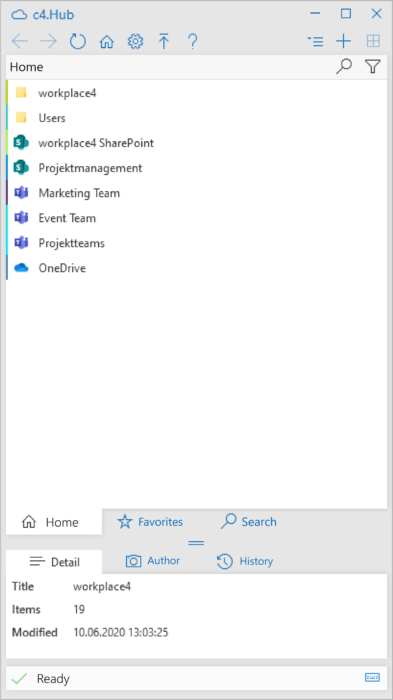 File and email management between Microsoft 365 and SharePoint with c4.Hub. One integrated system grants easy handling of files via drag & drop as an extension for your SharePoint and Office environment.
Deep integration in your Windows and Office system enables simpler but precise steering of your documents. Additionally, files and emails can be transferred to your SharePoint, Teams, or file structure directly via drag & drop. Other features of our Hub include an automated search for the right storage locations as well as controlling metadata also for multi uploads.
Manage files and emails via drag & drop between Microsoft 365 (Teams, Office), Sharepoint and your local storage.
SharePoint & Teams Usage Made Easy
Windows and Outlook Integration
Fuzzy Search Function
Multi Uploads + Metadata
System Switch not Necessary
Open Documents out of Hub
Add-In in Outlook
A key feature of c4.Hub is the Add-In integration of the tool in Microsoft Outlook. Seamlessly displayed in your Outlook window, the Hub already presents you with potential storage locations based on the context of the selected email. In order to store the email or its attachment in your desired location, simply drag & drop it in the chosen folder or category within the Add-In window. Done! Stored information can then be found e.g. in the relevant customer space on SharePoint.
File Management in SharePoint
The main function of c4.Hub is the storing of documents, emails, and other files. In order to avoid any hassle e.g. with searching the right location in SharePoint to save information or skimming through your Microsoft Teams folders, c4.Hub lets you do all this directly in Outlook. A simple drag & drop action saves what you want, where you want it. Upon an upload, c4.Hub asks you to fill in metadata to ensure a structured storage base.
Deep Integration
In order to create a seamless interplay between the Hub, SharePoint and Microsoft 365, the Hub is deeply integrated into your Windows and Office environment. Thereby, you are able to easily transfer files via drag & drop or copy & paste to your SharePoint as well as Teams, and organize them. This comes in handy, especially when working on emails and attachments in Microsoft Outlook. A deep integration enables you to transfer your documents and emails easily between your SharePoint and Office environment without leaving Outlook.
Share
Sharing information saved on your SharePoint is easy.
There is no need to dig through your libraries and download the files you want to share. Simply use the search bar of your c4.Hub dialogue window or the Outlook Add-In, choose the files you want to share and send them as link or attachment via email.
Multi Upload
The possibility of automated metadata prefilling also improves the process of uploading multiple files or even folders to your SharePoint in one simple step. By using the c4.Hub, you stay in control of further data processing of files and metadata. Thereby, you optimize the administration and organization of documents on your SharePoint. An intuitive adaption of forms and fields based on content also helps the user when managing metadata.
Metadata
c4.Hub supports you in keeping control of metadata. This data is used for storing and finding files later on. During the transfer to your SharePoint, the Hub automatically suggests metadata based on intelligent prefilling and intuitive adaptions of context fields based on the content type. Consequently, the upload process is quicker and it helps to keep information (metadata) of all files in SharePoint complete for a structured file management. As soon as the upload was successful, c4.Hub notifies you.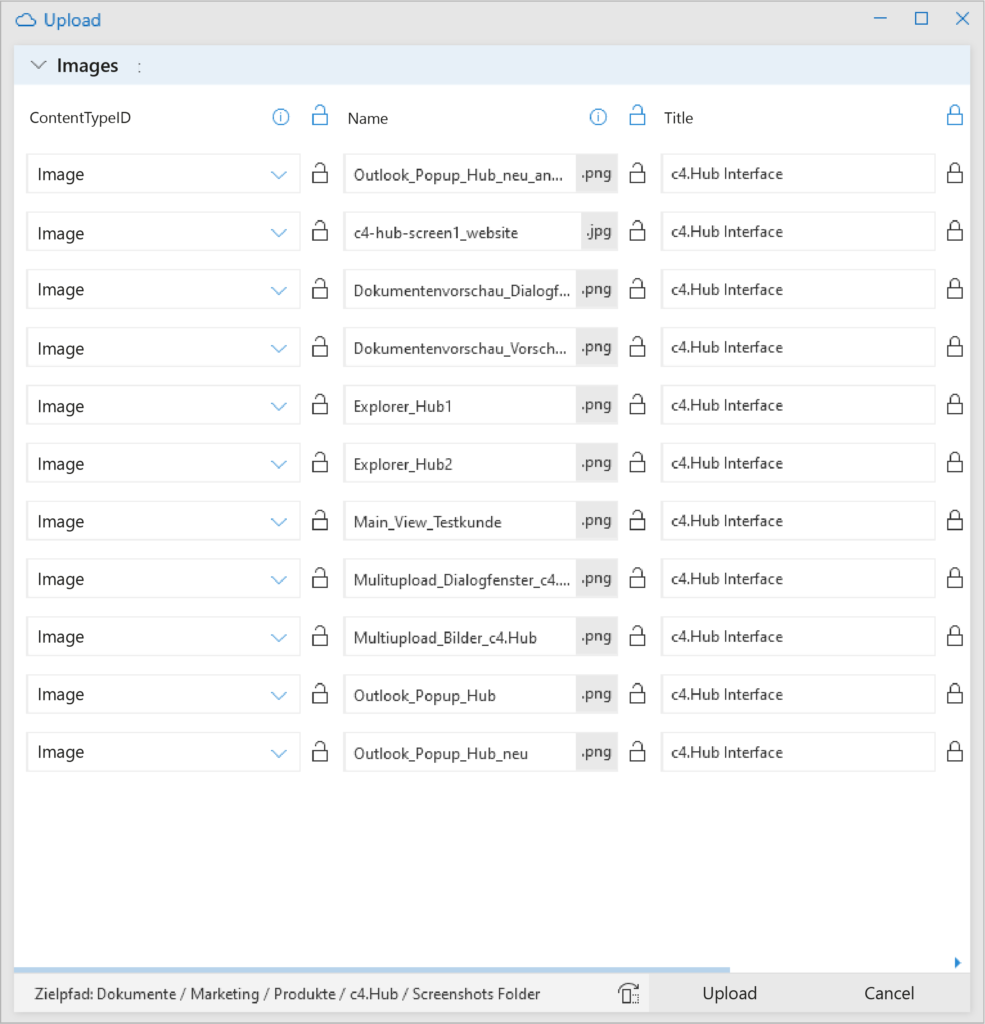 Fuzzy Search & Locating
The seamless integration of c4.Hub provides an intuitive user experience. Through the Hub's fuzzy search function, the user can look through SharePoint Lists, Libraries, FileNames, Microsoft Teams folders, and other available locations. c4.Hub ignores typos and suggests the best fitting results to the user.
As a pendant to the active search, c4.Hub aids the process of finding the right location to store an email, a document, etc. when used as Add-In in Outlook. An automated analysis looks for hints in subject lines, email addresses and texts to suggest potential locations for storing. Skimming through emails without losing the suggestions can be done by disabling this feature in the taskbar.
Regardless of which search function is used, working in your SharePoint and Microsoft 365 environment has never been more intuitive.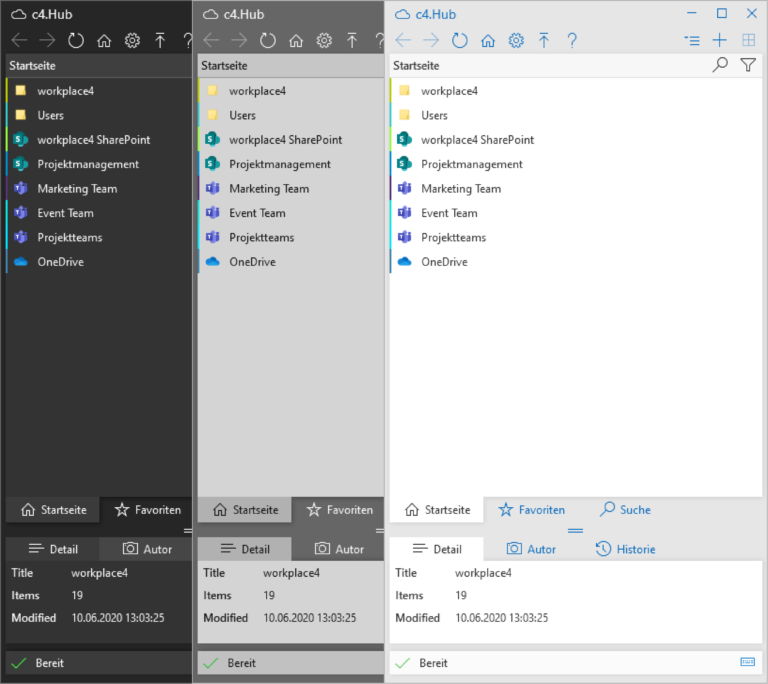 Seamless Design
c4.Hub not only integrates itself into your system environment, it also adapts seamlessly to your visual user interface. The appearance is based on your individual design settings controlled in your windows settings.
The design is implemented throughout your office applications:
Desktop Client
Outlook Add-In
Office Suite (Word, Excel, PowerPoint)